Caiman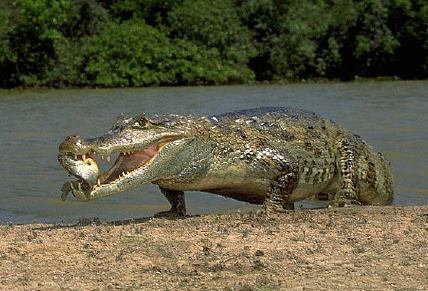 Habitat:
River systems of Central and South America. Amazon Basin.

Diet:
Amphibians, fish, reptiles, birds, and sometimes larger mammals.

Enemies:
Humans (hunting). Lizards who try to get their eggs.

Facts:
There are many species of caimans. They belong to the Family Alligatoridae.
The Black caiman, found in the Amazon Basin is a very endangered species. It is the largest caiman and can grow up to 15 feet.
The Dwarf caiman is the smallest and grows to about 5 feet long.
The Spectacled caiman can grow up to 2.5 meters in length.
Caimans are a rugged creature and very adaptable to their environment.
Larger caimans have been known to kill wild pigs who venture too close to the water.
Caiman hide is a valued commodity and many caiman are killed for their skin.
Females lay from 12-40 eggs during the rainy season and the young take about 90 days to hatch. They build nests of soil on land in a covered area.